Safe handling for your torch
Handles and machine shafts represent the direct link to the operator or machine. Each insert requires a suitable torch holder depending upon the size or capacity data. Messer Cutting Systems offers you handles and machine shafts in various sizes. Whilst the machine shafts are intended for mounting in a unit, the handles must fulfil the wishes and requirements of the. Because of this we place particular emphasis on weight and ergonomics as well as the technical functionality and safe operation during design and development. For this reason, each of the handle ranges exists in numerous variations.
We would be happy to support you with advice to find the optimum handle for you.
For manual operation with brazing, heating, cutting and welding inserts type STAR with gas/Oxygen or gas/air
Robust handle in compact format
Valves on the side
For welding range up to 30 mm
Oxygen connection: G1/4"RH (AG)*
Fuel gas connection: G3/8"LH (AG)*
*Connection details for Germany. Other national connections available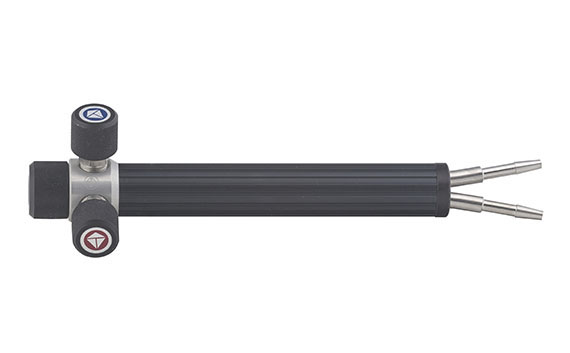 For manual operation with brazing, heating, cutting and welding inserts type MINITHERM with gas/Oxygen or gas/air
Profiled handle for a secure grip position
One hand operation as valves arranged in a V
Fine adjustments spindles in Oxygen and gas valves allow precise flame setting
Can be used for all fuel gases
Oxygen connection: 3.2 mm hose tail
Fuel gas connection: 3.2 mm hose tail
Messer Cutting Systems India Private Limited
---
Sales & Marketing Office:
Tanvi's Diamoda Industrial Premises, Dahisar (E), Mumbai 400 068, Maharashtra, India.
Manufacturing Unit & Head Office:
SNMV College Road, Malumichampatti, Coimbatore 641 050, Tamil Nadu, India.
Our comprehensive product range offers you a wide variety of different handles and machine shafts for the most varied applications and areas of use. You can find these in our oxyfuel catalogue or just contact us directly.
Have you any questions about our handles or machine shafts, or would you like more information about any aspect of our product range? Contact us directly and we will reply to you as fast as possible.
Messer Cutting Systems is the solution provider for the metalworking industry. In addition to cutting machines and oxyfuel technology, we offer software solutions, spare parts and a wide range of services.
We are sure that we will find the right solution for your individual requirements. Contact us, we will reply to you as fast as possible.