The Slagger® PLUS cutting table is like no other cutting table anywhere. The Slagger® PLUS is specially designed to work with smaller machines, such as the Messer Cutting Systems MetalMaster Evoution, and with machines using plasma systems up to 400 amp and material up to 3" (76.2 mm).
Small parts can be retrieved easily.
The dust collector keeps the operating environment clean.
Table does not have to be disassembled to remove the slag
Table Sizes available: Width 6' 8' and 10' (1.8 m, 2.4 m, 3 m) Length: 5'-50' (1.5 m-15.2 m).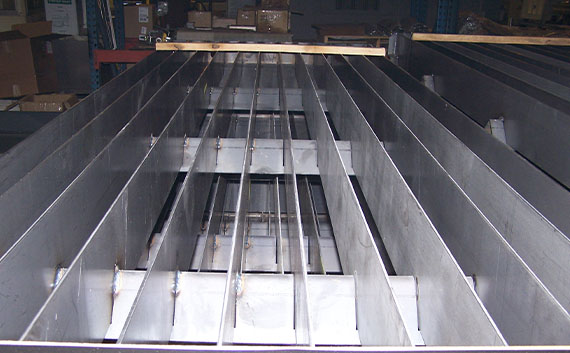 Material Type: Mild Steel, Stainless Steel, and Aluminum.
Machine Model Compatibility: MetalMaster Evolution and other machines with 400 amp plasma or lower.
Material Thickness Capacity: 26 gauge to 3" (76.2 mm).
Messer Cutting Systems India Private Limited
---
Sales & Marketing Office:
Office No. 702B, 7th Floor,
Tanvi's Diamoda Industrial Premises Co-Op Soc. Ltd.,
Dahisar (E), Mumbai - 400 068, Maharashtra
+91 22 4006 8395
sales.all@messer-cutting.com
Manufacturing Unit & Head Office:
No.198/2A2A, 198/2A2B and 199/2AB2, SNMV College Road, Mallumichampatti,
Coimbatore 641 050, Tamil Nadu, India.
This table is able to automatically move the small parts and slag produced from either oxy-fuel or plasma cutting from the table bottom to a the end of the table. A pusher type blade moves the small parts and slag forward into the optional pan located at the front of the plasma cutting table.
The Slagger® PLUS is also an excellent smoke removal table.
The Slagger® is also an excellent smoke removal table. Smoke is drawn from the table by a side duct that is divided into zones. The zones open only at the plasma cutting machine location.