FiberBlade V, the new fifth generation high speed laser cutting machine, benefiting from Messer's high speed cutting technology, can achieve top level productivity in the industry. It is simple and user-friendly HMI helps operator to produce high quality products after short-term training.
What Thickness can be cut - 0.5 mm – 35 mm depending on Laser power
What Laser power options are available- 1 kw* to 15 kw
What material can be cut - MS, SS, Aluminium, Copper, Brass
New generation of Global Connect CNC system
Messer's proprietary technology, based on high-speed cutting capabilities developed by high-dynamic platforms, greatly increases production capacity
Ultra jump function shortens positioning time, improves processing efficiency
Standard features: auto alignment, auto focusing and auto gas pressure adjustment
Datalog function to generate production reports automatically
Tested and verified standard database based on local materials
The verified high quality sharp-angle cutting technology based on complicated layouts from customer site
Stable processing quality benefitting from lens condition monitoring technology
Preventive maintenance tips and warning function reducing downtime
Remote service, online diagnosis and trouble shooting, effectively reducing downtime and saving extra-service expenses.
Positioning accuracy: ±0.03 mm/m
Max. simultaneous:169 m/min
Max. acceleration: 1.5 g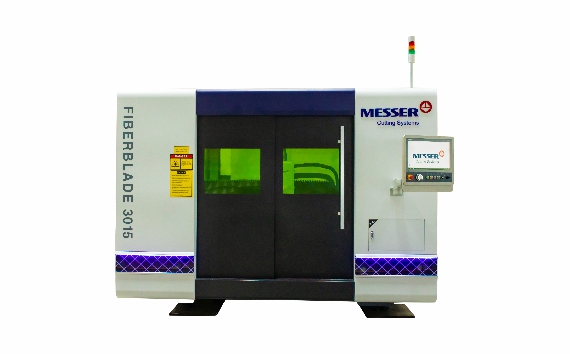 Messer Cutting Systems India Private Limited
---
Sales & Marketing Office:
Tanvi's Diamoda Industrial Premises, Dahisar (E), Mumbai 400 068, Maharashtra, India.
Manufacturing Unit & Head Office:
SNMV College Road, Malumichampatti, Coimbatore 641 050, Tamil Nadu, India.
Messer Cutting Systems is the solution provider for the metalworking industry. In addition to cutting machines and oxyfuel technology, we offer software solutions, spare parts and a wide range of services.
We are sure that we will find the right solution for your individual requirements. Contact us, we will reply to you as fast as possible.