A compact machine for quick and efficient oxyfuel and plasma cutting
Profitherm is a robust and precise CNC cutting machine which can be applied from small workshops to big factories. Its optimized construction with rails in the X direction and Linear guides in the transverse direction ensures heavy duty oxyfuel and plasma cutting.
The machine allows simultaneous cuts with up to 4 torches.
Patented ALFA torch for oxy-fuel cutting, comes with quick nozzle change for higher productivity.
Machine can be used with air and oxygen plasmas of renowned plasma suppliers.
---
---
Simplified solution for metal processing industry
Positioning speed 12 m/min helps to reduce cycle time.
Digital servo AC drives with precision gear boxes in X & Y axis.
Robust beam with LM guides to ensure superior cut quality.
Compact in design and fully concealed cables & hoses.
Automatic gas regulation system – Eliminates manual intervention for setting the gas flow.
Symmetric wheel housing design & parking space for unused torches increases the cutting width.
Reliable height control for longer nozzle life and high-quality cuts.
Messer Cutting Systems India Private Limited
---
Sales & Marketing Office:
Tanvi's Diamoda Industrial Premises, Dahisar (E), Mumbai 400 068, Maharashtra, India.
Manufacturing Unit & Head Office:
SNMV College Road, Malumichampatti, Coimbatore 641 050, Tamil Nadu, India.
---
Multiple Combinations for Thermal Cutting needs
---
Oxyfuel machine torch ALFA
Our ALFA torch offers numerous sophisticated features and options, taking thermal cutting to a completely new level. The torch nozzle, for example, can be replaced without a tool. As a result, misalignment of the torch is prevented, resulting in drastically reduced set-up times. The cap can simply be unscrewed to expose the nozzles, so they can easily be checked or replaced.
Moreover, material can be utilised in a more efficient way, as the ALFA is able to cut effectively up to and along the edge of the sheet.
Furthermore, the torch integrates numerous functions, which on other systems are attached to the outside, such as height sensing. Their full integration eliminates the need for additional cables and sensing rings – and having to exchange the latter to suit different material thicknesses or to replace them due to wear.
Your benefits:
Quick nozzle change without tools and without a misalignment of the torch, resulting in significantly reduced idle times
Improved material utilisation through optimal sensing and cutting, also along the edges
Fully integrated magnetic height sensing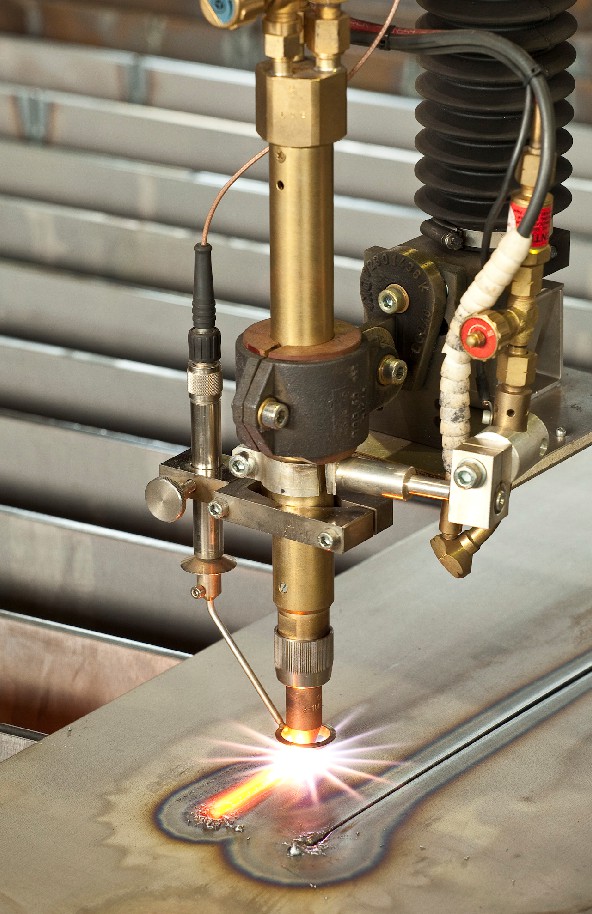 Oxyfuel machine torch MS932
The MS 932 is very versatile. It can be used with all fuel gases and is very safe to operate. The torch design prevents flashbacks even when piercing thick materials.
The torch nozzle is changed without tools, eliminating the possibility of misaligning the torch, which drastically reduces set-up time. Once the cap is unscrewed, the nozzles are free and can be easily replaced or checked
Your benefits:
Low oxygen consumption reduces costs without loss of cutting quality or cutting speed
Guaranteed quality through 100% nozzle test
No tools required for nozzle change, thus greatly reduced set-up times
Patented quick-change nozzle system
Higher cutting speed and longer nozzle service life compared to conventional standard nozzles with good cutting quality in accordance with quality class EN ISO 9013
No upper edge melting and slag bead formation due to special heating slot arrangement
Uniform nozzle heating caps for all types of gas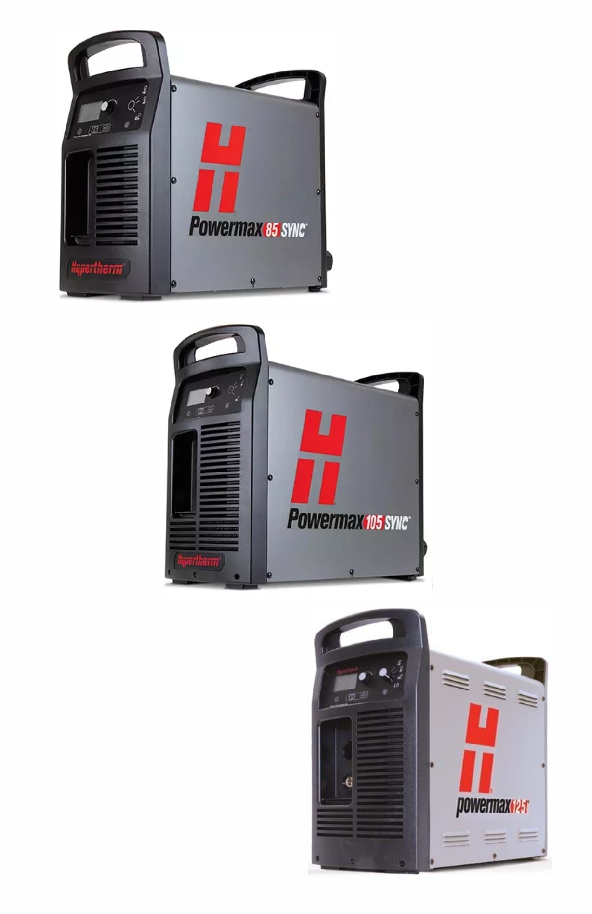 Air Plasma PMX Series
Hypertherms Industry leading Power max systems allow extensive automated metal cutting.
Powermax 85 SYNC, Powermax 105 SYNC, Powermax125 SYNC are widely used in Profitherm machines.
Your benefits:
Easy to use
Minimum operation cost
Simplified system operation minimizes costs spent on training and troubleshooting.
Reductions to downtime during consumable change-outs and elimination of costs associated with premature disposal of consumable parts.
Maximize performance and improved quality over life compared to standard consumables.
Engineered for rugged, industrial environments.
MAXPRO200 Plasma System
The MAXPRO200® LongLife® plasma cutting system is engineered for heavy-duty, high capacity automated cutting applications. The easy-to-use system operates with either air, oxygen, or nitrogen plasma gas, and combines fast cutting speeds and quick process changes to maximize productivity. Advanced Hypertherm consumable designs improve cut consistency and significantly increase consumable life to lower your cost per part.
Your benefits:
Fastest cut speeds in its class produce more finished parts per hour
Engineered with 100% duty cycle for the most demanding production environments.
Superior cut quality and consistency minimize the need for costly secondary operations
Optimized cutting parameters are automatically set and controlled in one step to deliver consistent results without operator intervention
CutFire 100i Kjellberg
The CutFire 100i is a powerful plasma unit with air as plasma gas. It offers a wide range of applications at low investment costs. It is equipped with an adjusted inverter technology and is one of the few air-cooled systems on the market that offers a duty cycle of 100%..
Your benefits:
The cooling and protective effect of the swirl gas ensures higher cutting speeds and an increased lifetime of the consumables.
The CutFire 100i is ideally suited for cutting thin sheets in ventilation and switch cabinet construction, in metal construction and many other craftsmen businesses, industrial and production plants.