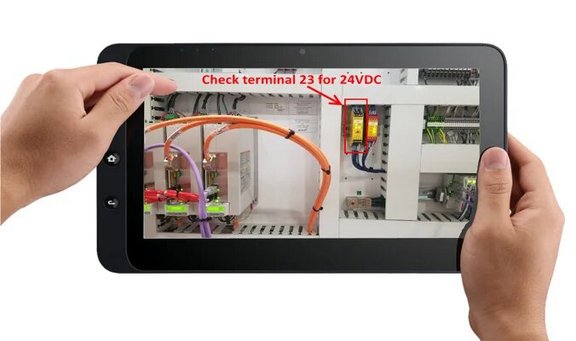 Recovery from unplanned downtime is critical when a system exhibits problems or complete failure. Waiting for a service technician to arrive, even if only a short delay, may not be acceptable especially if the issue can be resolved easily.
Visual Service from Messer Cutting Systems provides additional remote assistance tools for the customer. It is an application-based solution - available on all commonly available iOS & Android devices.
The end user interacts from jobsite to the experts from Messer Cuttings Systems, via tablet, smart phone or wearable headset. Each support session is 256-bit AES-encrypted and password protected, and can be stored on German servers with full GDPR compliance.
Minimizes delays in trouble-shooting
Provides an upgrade to existing "Virtual Service" ( via NetSupport or TeamViewer )
Provides true "over the shoulder" remote support and troubleshooting via MCS Experts - just as if the MCS Expert was physically onsite with the end user
Optimized "First Time Fix Rate":

More effective root cause analysis
Enable parts identification
Real-time collaboration when using technical documents
Capture digital record of any field interactions
You can use Visual Service from Messer Cutting Systems via various devices, as it fits best into your daily work routine. You can chose between tablet or smartphone. Optional: wearable headset.
Messer Cutting Systems India Private Limited
---
Sales & Marketing Office:
Tanvi's Diamoda Industrial Premises, Dahisar (E), Mumbai 400 068, Maharashtra, India.
Manufacturing Unit & Head Office:
SNMV College Road, Malumichampatti, Coimbatore 641 050, Tamil Nadu, India.