High Productive and Cost-Effective Laser Cutting
Ergonomically designed, compact and robust FiberLight is the choice for quality cutting, in low and mid power laser application. Predefined cutting process parameters for wide range of materials helps to achieve quality cut in minimum possible time.
Simple and user-friendly Global Connect HMI control helps operators to produce high-quality products after a short-term training.
Laser cutting provides you a large range of advantages: High accuracy, low heat influence and quality cut parts.
The fibre laser, additionally, offers high efficiency and low maintenance.
The new Global Connect controller with Job concept.
Sturdy & optimized structure for Smooth operation and quality cutting.
Robust beam with LM guides to ensure superior cut quality.
Compact in design and fully concealed cables & hoses.
Tested and verified standard database based on local materials.
Advanced cutting functions such as Jump function, Scan cut & Zip cuts ensures the fastest cutting time.
Machine is available 3 variants: flexible to customer needs.
Max. Simultaneous: 112m/min
Max. acceleration: 0.8g
Remote service, online diagnosis and trouble shooting effectively reduce downtime and save extra service expenses.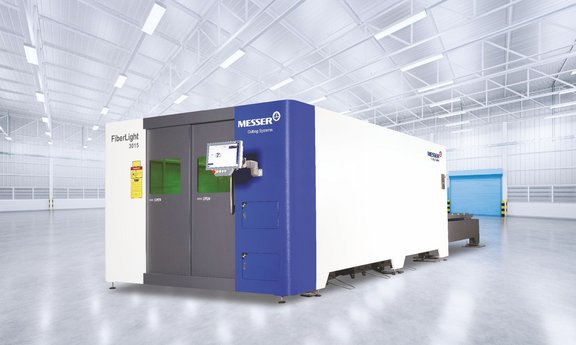 Messer Cutting Systems India Private Limited
---
Sales & Marketing Office:
Tanvi's Diamoda Industrial Premises, Dahisar (E), Mumbai 400 068, Maharashtra, India.
Manufacturing Unit & Head Office:
SNMV College Road, Malumichampatti, Coimbatore 641 050, Tamil Nadu, India.
Modern fully network compatible PC-based control unit.
Clear and intuitive operator interface with Windows.
Flexible job-centric environment for new operators to learn quickly and experienced operators to excel.
Job scheduling for improved production flow.
Quick processing of past or repetitive jobs.
Local nesting and standard shape library for just-in-time workflow.
The LightCutter 2.0 is the ideal solution for all laser cutting applications in the medium power range.
It is characterized by high cutting qualities for all metals up to 25 mm sheet thickness - especially for laser cutting of mild steel, stainless steel, and aluminum.
Various intelligent sensor solutions help to ensure that the laser cutting process is permanently stable and precise, to obtain optimized cut qualities and to avoid production rejects.
Efficient and economical upto 25mm sheet thickness.
Optimized for continuous operation.